11.11.2016
LOLC in massive Maldives push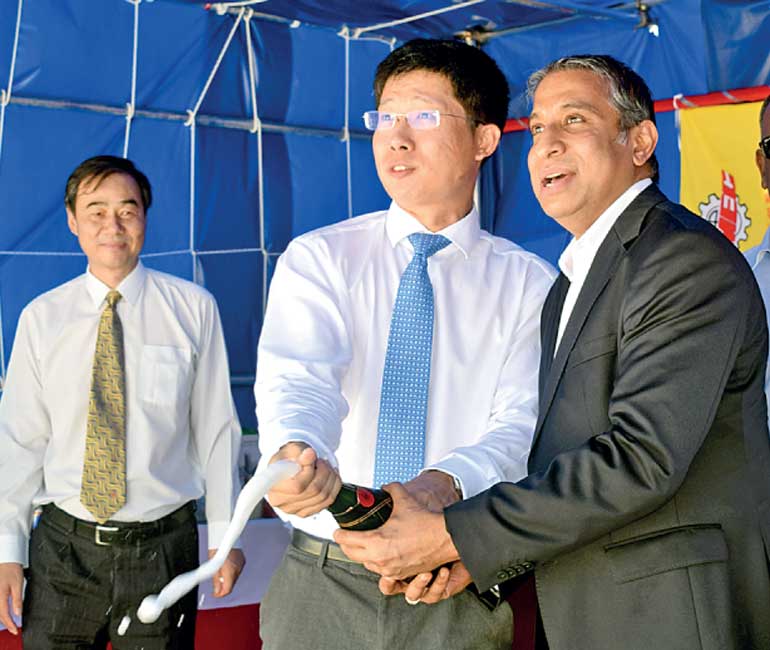 LOLC Group marked its first overseas leisure venture in the Maldives and also broke new ground in Sri Lanka-China relations last week, announcing its North Malé Resort Development project in partnership with State-owned China Machinery Engineering Corporation (CMEC).
Presenting three brand new islands to CMEC last Thursday, LOLC announced the massive and innovative 50:50 JV project valued at $ 150 million just one day after work on the islands was completed by Dutch dredging and marine engineering giant Van Oord.
The venture is centred on a whole new concept, with the LOLC Group pioneering the creation of islands on lagoons in the Maldives.
The presentation ceremony headed by LOLC Group Deputy Chairman Ishara Nanayakkara took place on the islands in the presence of LOLC and CMEC senior management personnel, the Sri Lankan High Commissioner to the Maldives, China's Ambassador to the Maldives, Chinese embassy and media personnel and the Daily FT from Sri Lanka.
The three islands created by the Group comprise 75 acres and when completed in September 2018 will comprise three properties – one five-star and two four-star – with a total of 470 rooms, 120 five-star rooms and 350 four-star rooms.
"What is amazing is when we wanted to come to Maldives, we looked at where to invest, where to have our islands, and we realised what nobody had realised – why not buy lagoons where the islands have not been formed and then reclaim these lands and create islands ourselves?" Nanayakkara told Daily FT.
"This is a unique concept; no one else thought of buying a lagoon where the water is around two to three feet deep and then creating an island," added Nanayakkara.
See more at: http://www.ft.lk/article/568644/LOLC-in-massive-Maldives-push#sthash.KUiiXfY3.dpuf